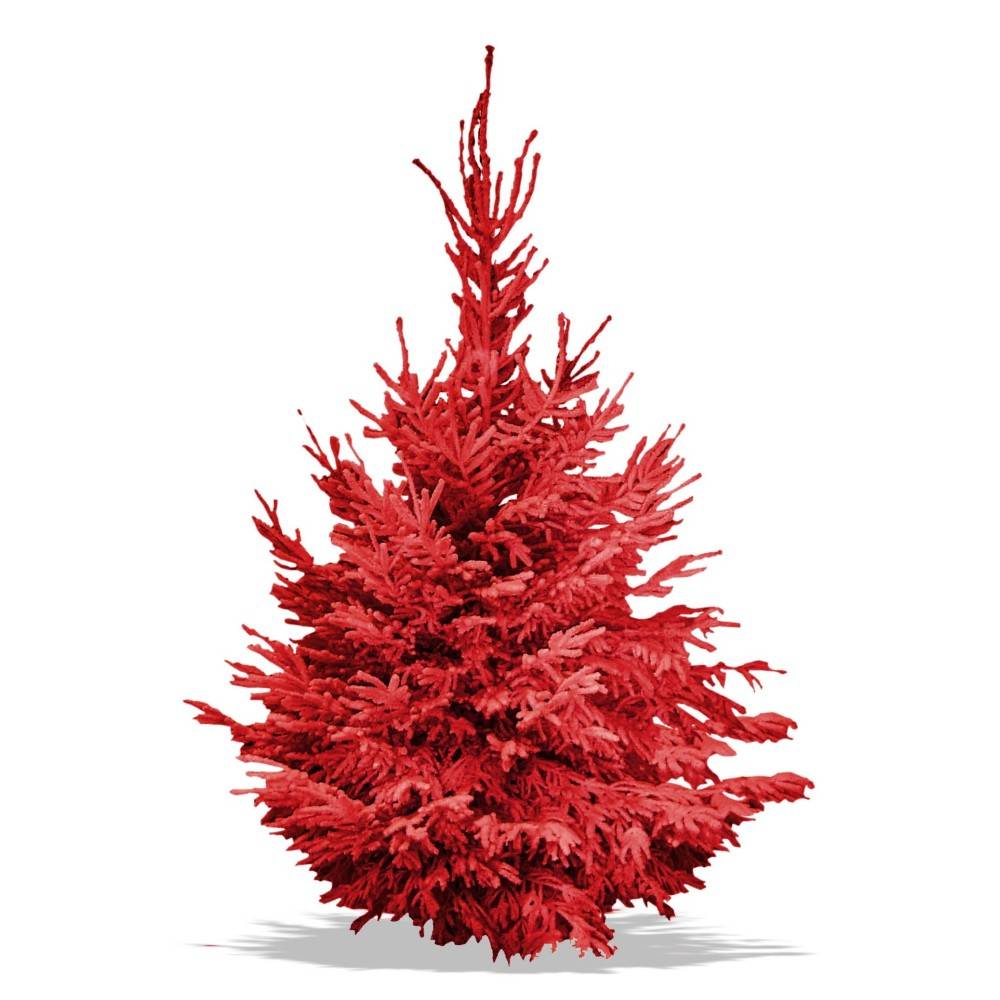  
Flocked Nordmann Tree Red
Flocked trees are natural Nordmann trees on which a fire resistant glue (M1 certificate) made from water and coloured cotton is sprayed.
Our commitments for your natural Nordmann tree: ultra-fresh from Belgium with delivery to your home.
A tree bought from us = 1 tree replanted!
Order now and have it delivered whenever you want ...
For a tree of more than 2 meters high, we will ask you to kindly help the deliveryman .... Thank you
Delivery

Delivery in Belgium

Use

Inside

Colour

Red

finish

Snowed

Christmastrees

Nordmann

Advantages

Retardant flame - M1 certificate
Step out of the ordinary and wow your clients, colleagues or families with a coloured flocked Nordmann tree. Black, red, blue, green, fuchsia, orange or turquoise, it's possible to match your tree with your decorations, your company logo or your interior. In short, Sapins.be offers you the opportunity to create an ideal Christmas atmosphere for a retail space or a downright original living room. In colour, your natural Nordmann tree, already very resistant, lasts even longer!
The flocking technique: flocking refers to spraying your tree with coloured cotton fiber (flock) simultaneously with water-based glue to form a cottony layer on the balanced branches of your Nordmann tree.
A huge success for the coloured flocked Christmas tree
The Christmas tree allows all kinds of fantasies to celebrate the end of the year in colour. If the green tree is not over, customised trees are very popular. Why ?
Perfect conical shape. Flocking is only carried out on perfectly pyramidal trees, such as those marketed by Sapins.be.
Diversity. The flocked tree comes in a multitude of colours.
Ideal for commercial spaces. The coloured flocking embellishes your tree in a completely original way. We guarantee a perfect hold of the tree indoors, outdoors, although this will depend on climatic conditions.
Cottony appearance, soft to the touch and in no way crumbly.
Sapins.be recommends an indoor use for your flocked tree.
The Nordmann needles, already flexible and resistant, are even more so.
An extraordinary pyramid tree. The importance of shape: Flocking will be successful on the condition of having a perfectly conical tree, as is the case for 100% of the Nordmann trees marketed by Sapins.be.
Easy to decorate thanks to its clearly marked layers.
Ultra fresh. Our Nordmann trees are cut on November 20 at the earliest or delivered in pots.
No smell. Nordmann tress are only very slightly odorous, which can be useful in certain professional cases. The flocking does not modify this delicate smell.
Available in several sizes, from 100 to 300 cm.
High-end natural tree.
Usual name: Nordmann tree, Caucasian tree.
Find out more about our original decorating ideas ?
Sapins.be is at your service! We deliver your trees according to your schedule and your specific requests. Flexible, we are at your disposal and can answer your questions with pleasure. Contact us via the online contact form. We react as quickly as possible.
Frequently purchased together

Products from the same category