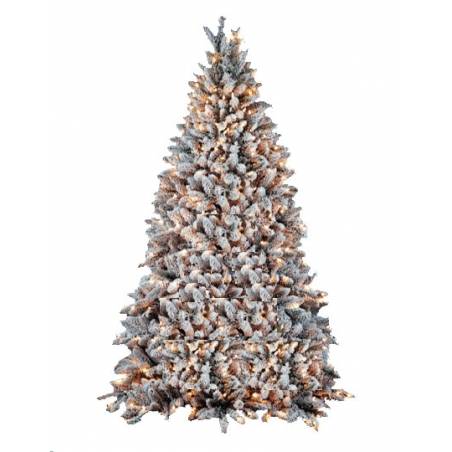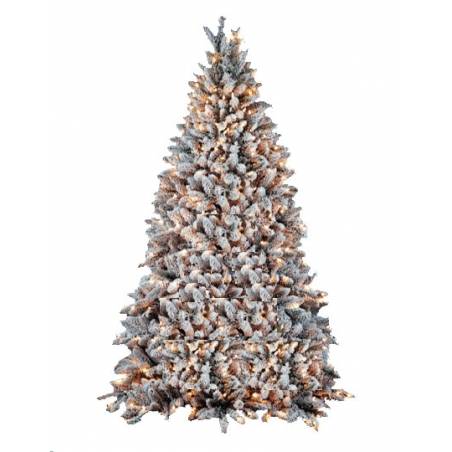  
Flocked artificial tree & lights
The snowy Christmas tree/ Flocked Deluxe Warm LED / DEL integrated is an artificial Christmas Tree fully covered in snow with warm LED / DEL lighting connected to a foot pedal. This plastic Christmas tree is made from high quality PVC. Due to its strong branches, you can easily hang many decorations in the PVC Snow Deluxe Artificial Christmas Tree. The LED lights are well distributed on the tree and the light cables are neatly hidden between the branches.
Notes

The christmastree is in the box and unmounted

Use

Superior quality: for indoor and outdoor use

Lamps

Integrated warm LED / DEL lighting with foot switch

Colour

Snowy tree

Material

High quality PVC

Fixation

Construction parapluie

Christmastrees

Artificiels

Advantages

Very easy to assemble

Remarks

Fire / Flame Resistant Standards (NEN 71-2)
Snow-covered artificial trees are larger than life, elegant, straight and bushy with harmonious branches; such is the quality offered by Sapins.be. Indeed, we want the best for our customers! This year, create a dream atmosphere that will remain etched in the memories of your friends, family, colleagues and / or customers. Christmas is a unique celebration, it's the perfect time to treat yourself and end the year in style.
Choosing a snow-covered artificial tree is an opportunity to combine tradition and modernity for a decoration in tune with the times but also with customs. The artificial tree allows you aim high at an advantageous price. Throughout the years, you keep your tree and only change its decoration. Sapins.be offers snow-covered artificial trees from 120 to 210 cm.
THE BENEFITS OF THE SNOWY ARTIFICIAL TREE FOR YOUR CHRISTMAS PARTIES
Christmas is fast approaching, accompanied by the usual questions such as the choice of your tree. This year, you have decided to indulge yourself intelligently: you want a snow-covered artificial tree. Sapins.be lists the advantages of these artificial trees:
A price depreciable over several years. Choosing an artificial tree is a sustainable investment. With just one purchase, you have a tree for at least five years, if you take care of it.
Durable. Sapins.be only offers quality artificial trees. This is why the snow-covered artificial tree keeps the same shape over the years and remains majestic year after year.
Realistic effect. Our trees are superb!
No smell. Ideal for certain commercial surfaces or if you have allergies.
No hole. Easy to decorate, the snow-covered artificial tree is regular.
Clean. Obviously, the artificial tree doesn't lose its needles and doesn't make any mess.
Easy transport. Supplied in separate parts, it can be easily stored.
Available immediately. Install your tree whenever you want.
Stability. The snow-covered artificial tree stands by itself.
Fire safety.
CONTACTEZ-NOUS ! WANT TO KNOW MORE ABOUT SAPINS.BE? CONTACT US!
Sapins.be has almost 20 years of experience. Since 1997, we deliver and market Christmas trees and decorations. Our service is focused on customer satisfaction through quality products and flexible service. We deliver your trees, we install your decorations, we respond to all your requests. If you have any questions, please do not hesitate to contact us through the online contact form. We respond as soon as possible.
Frequently purchased together

Products from the same category