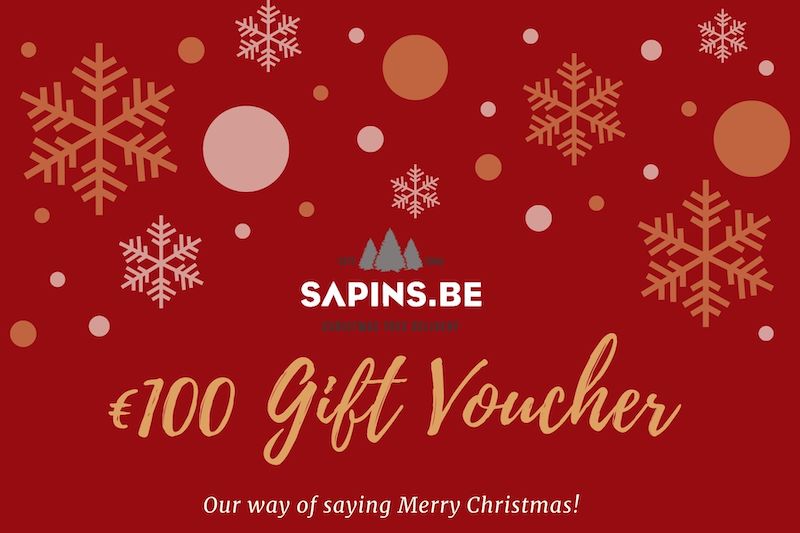 The personalised gift voucher
Show your employees that you are thinking of them during this year-end period
Sapins.be offers you gift vouchers to offer to your employees or to thank some of your customers. In this somewhat special time, it is sometimes difficult to get together in the office. Christmas and the end of year celebrations represent a moment of sharing and solidarity that is shared with colleagues. Show them that you are thinking of them and offer them a gift voucher to provide them with a Christmas tree or the necessary decorations for the holiday season
A personalised voucher: we personalise your gift voucher with a personalised note and your company branding.
The amount: you just have to choose the amount you want to offer to your employees, it will be directly exchangeable on our website or deducted if the basket exceeds the amount offered.
Satisfied employees: nothing like a gift voucher to show your employees that you are thinking of them during this end of the year period; and motivate them towards your next goals
Tax advantage: the gift voucher is 100% exempt from social charges and professional withholding tax.
Sapins.be offers you a service of personalised trees and decorations throughout Belgium. Whether in Brussels, the rest of the country or abroad, we are at your disposal to make any of your ideas come true. Do you want to transform the decor of your showroom, your town square or your hotel lobby during the end of the year holidays? Call on our team of professional decorators to bring the magic of Christmas to life for your customers, visitors and employees.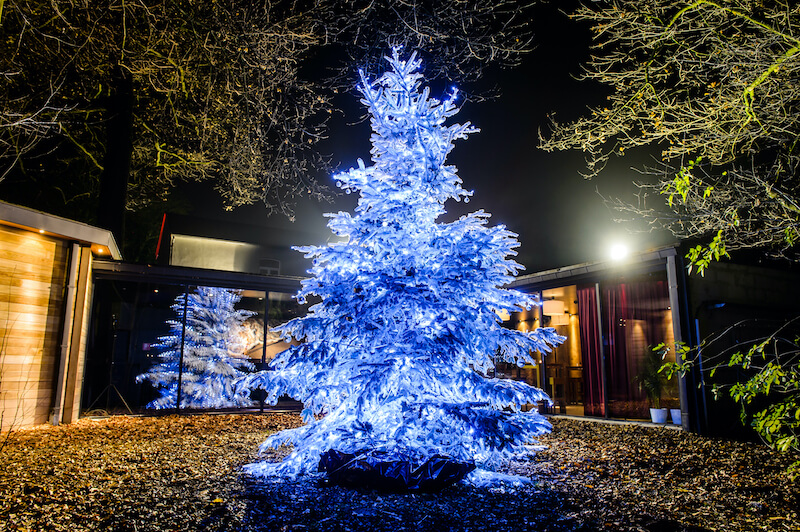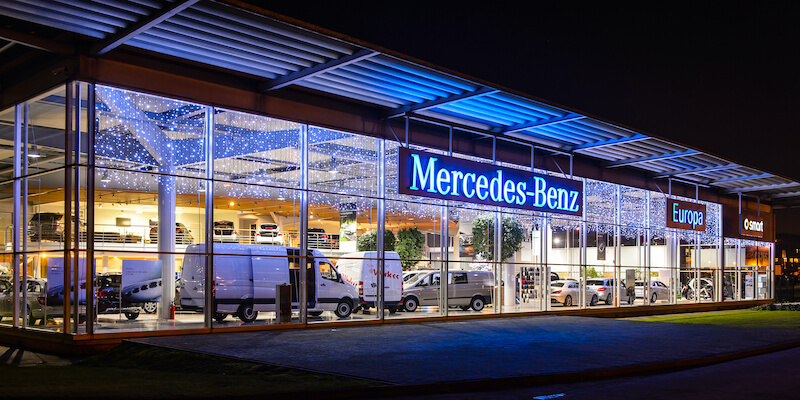 Our christmas decoration service for windows, showrooms and public spaces
Ask us what you want, we will make it happen. 
However, we do need some specific information to get your project started. Thanks to this information, we can estimate what the cost of transport, material and labour will be and can we avoid any unpleasant surprises as far as organisation and cost estimation is concerned
Location: the precise address of the place where you want to mount the Christmas decorations allows us to calculate travel and delivery costs as well as know which method of transport to use in the event, for example, of difficult access;
The choice of tree: we have the possibility of working with trees measuring from 3 to 15 meters high. A single tree or more, a natural tree flocked in the colours of your company or an artificial one; anything is possible. The budget varies according to the different options;
Decoration: we have a wide range of decorations in our shop. But we can also make custom decorations that we buy especially for you;
Indoor or outdoor: the installation of the Christmas tree and decorations can be examined according to the planned location. For the exterior, weather and practical matters must be taken into account. Indoors, it is the size of the location that is a priority as well as the conditions of access;
Corporate gifts: we can also provide you with Christmas souvenirs marked with your company name (baubles, candles).
Sapins.be, in partnership with Simply Better, offers you a personalised Christmas or end-of-year event. Whether in Brussels, the rest of the country or abroad, we are at your disposal to materialise your ideas. We offer you a tailor-made event so that you and your employees may have an unforgettable moment.
OUR EVENTS ARE DESIGNED FOR YOU AND RESPECT THE ENVIRONMENT.
Custom-made events
«Realisation of tailor-made events »
It's simple !
At Sapins.be, we are aware that each client has their own needs, their own desires and their own objectives: their own morphology. That's why we strive to create tailor-made events, in line with their brand identity and the message they want to communicate.
With over 15 years of experience in event design, management and production, Simply Better acts as the tailor that will bring style and elegance to your brand. A perfect set that requires creativity and realisation of fine details: Simply better.
Simply eco-friendly :
Simply Better and sapins.be are committed to creating all of its events in an ecological way. The partnership with the Reforest action is a first step towards a sustainable and conscious approach to environmental issues which also affect the daily lives of its customers. This goal is reflected in the materials used to create the event furniture, energy management, respect for the environment and recycling: Simply better.